The only way to get your garage door repair or replacement project right is to avoid taking shortcuts; else it'll end in a mess. It takes time, money and ample technical knowledge to handle garage door issues properly, especially the tricky ones. I've written this from a wealth of experience.
There's nothing more responsible about owning a home than maintaining it well and making sure that home repairs are identified on time and tackled by either a professional or by do-it-yourself (DIY) if you have the required skills.
Here are the type of garage door tasks that are safe for you to handle and those you shouldn't. Keep reading to find out:
GARAGE DOOR REPAIRS – When Do-it-yourself is appropriate
Tightening Garage Door Hardware: You've to periodically check the hinges, bolts and nuts to render DIY solutions which involve tightening these small parts provided they appear loose. With temperature changes, these parts can get loose on both sides of the garage. With your toolbox and some elbow grease, you can tighten the hardware easily to keep your garage door healthy.
Application of Lubricants: Opening and closing your garage door leads to friction, and a simple lube is the right maintenance chore to fix the problem. You'll always hear a numbing and annoying metal-scraping-metal sound that signals inadequate lubrication and impending trouble. Proper and timely lubrication limit such friction and render your garage door fully functional and long-lasting.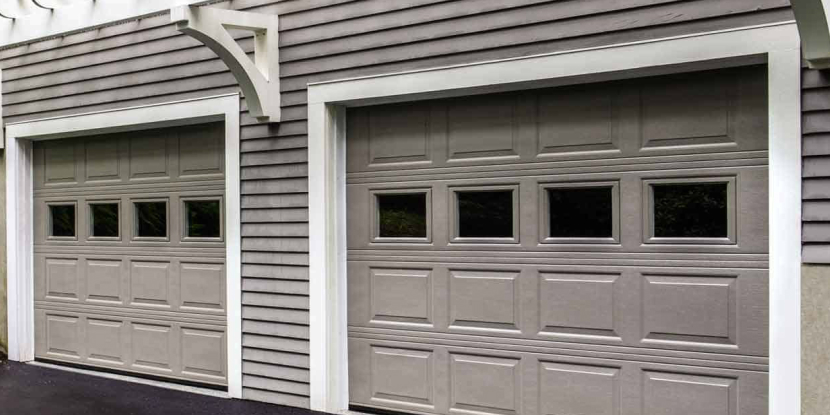 Pro Tip: Apply nothing other than a garage door lubricant and avoid applying it in excess.
Replace the Remote Batteries and Check Eye Sensors: Is your garage door not opening or closing? The ultra-easy-to-do DIY tricks are simple to replace the remote batteries and checking the small sensors at the door bottom. Note that a filthy sensor lens or poorly aligned door won't perform smoothly. Get it cleaned and evened out cautiously.
Application of a Weather Seal: You don't want any small critters sneaking into your garage floor if it's wet. The same is true if light is visible under the door from outside, which means the seal needs replacement. Besides, it's a pretty simple and less costly repair job to handle. Find out the right seal size and get it from a nearby hardware store, but if you doubt your skills, hire a pro.
GARAGE DOOR REPAIRS – When to hire a pro instead of doing DIY
There are certain garage door repairs that demand you to get a tech professional and nothing else. These cases usually involve issues with malfunctions or damage and the reasons a pro is best suited for them are many:
Reasons some garage door repair solutions only need tech professionals
Garage Doors are Both Huge and Heavy: Garage door parts are pieced together to perform as a whole and perfectly so, giving your door a great balance in its up and down movement. When people handle complex garage door repairs by themselves, the likelihood of additional damages and costs is obvious unlike when qualified tech pros do the required diagnoses, repairs or replacement.
Garage Door Spring Repairs: This involves very intricate work reserved only for specialists. If you don't want to ruin your door and regret ever touching it, keep off spring door issues because when your DIY effort on your door spring goes wrong, you can lose a finger or the value of your door until a pro shows up with a big bill.
Solutions for Track Jams: When any other thing or debris causes your garage door tracks to jam, they may bend, corrode or go off track completely. Whatever the reason is, watch out! If the tracks fail to function, the door may end up collapsing, which is the last thing you want to experience. Take action by inviting a pro before it's too late.
Opener Repairs: Techies should better handle garage door opener issues as they involve so much technical know-how and experience. Though intimidating, fixing your opener can take a few minutes with a pro unlike you who could take forever and with a high chance of ruining. Just to add on, there are also user-friendly smartphone apps that homeowners get for their garage doors.
Garage doors don't only consist of intricate constructions involving cables, rollers, springs, drums and more, they also have parts that undergo extreme tension, putting your safety in a risky position. Note that these doors are massive and too heavy not to cause severe damage if they collapse or hit against anything uncontrollably.
An essential precaution here is to stay off garage door repairs that are beyond your DIY skills.
Next Steps You can take:
Call Brand Garage Doors for your next garage door repair or replacement. We serve the following areas: Boardman, Brookfield, Brookfield Center, Campbell, Canfield, Churchill, Clark, Edinburg, Farrell, Frizzleburg, Girard, Hermitage, Hilltop, Howland Center, Hubbard, Lowellville, Maplewood Park, Masury, Mc Donald, McKinley Heights, Mcdonald, Mineral Ridge, New Bedford, Niles, Poland, Pulaski, Sharon, Sharpsville, Struthers, Vienna, Vienna Center, West Hill, West Middlesex, Wheatland, Yankee Lake, Youngstown
Give us a call at (330) 240-6369 or visit us at https://www.brandgaragedoors.com to schedule an estimate or repair service call.